Engineered and Supported by System Fabric Works
Turnkey, state-of-the-art IT solutions designed to address the requirements and challenges of deep learning, machine learning and artificial intelligence processes within the AI-aware Enterprise.
Installation and configuration provided by System Fabric Works.
Level 1, 2 and 3 support provided by System Fabric Works.
System Fabric Works was established as a company in 2002 to design and implement compute infrastructure that addresses the most demanding needs of high performance computing, research computing and the enterprise.
Our work has factored in to the most impressive supercomputers and general purpose computers, with a well-established reputation for meeting our client's needs in the areas of artificial intelligence, computing, networking, storage and file systems requirements in commercial, industrial and scientific/engineering enterprises.
What can we do for you?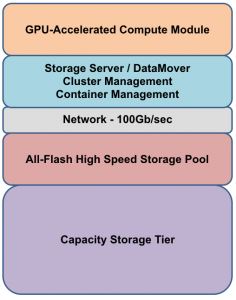 Hardware and software support provided by System Fabric Works, backed by the following vendors:
Servers – Fujitsu

Parallel File System – BeeGFS

Storage – NetApp

Networking – Mellanox
Software solutions are customizable, GPU-accelerated and optimized for the platform, including:
Neural Networks – TensorFlow, OpenNN

Support Vector Machines (SVM) – libsvm

Linear and Logistic Regression – liblinear

Algorithm Development and Statistical Analysis – Octave, R, Python/NumPy

Bright Cluster Management

Docker Containers

Databases – Hadoop, Cassandra, MongoDB, PostgreSQL, MySQL

OpenCL and CUDA toolkits