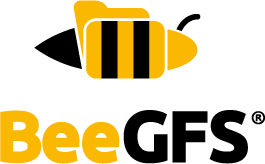 BeeGFS – The Leading Parallel Clustered File System
BeeGFS (formerly FhGFS) is the leading parallel cluster file system, developed with a strong focus on performance and designed for very easy installation and management. If I/O intensive workloads are your problem, BeeGFS is the solution.
Lustre® – Open-Source, Parallel File System for HPC and the Enterprise
The Lustre® file system is an open-source, parallel file system that supports leadership-class HPC simulation environments. Born from a research project at Carnegie Mellon University, the Lustre file system has grown to support many of the world's most powerful supercomputers.  Lustre provides a POSIX-compliant file system interface and scales to thousands of clients, petabytes of storage and hundreds of gigabytes per second of I/O bandwidth.
System Fabric Works operates in partnership with Whamcloud to deliver fully designed, engineered and supported Lustre solutions.